Our Website SiteShield
care packages
designed to take the worry out of managing your new website!
Features
TurboHosting
$20
monthly
Economy
$49
monthly
Standard
$79
monthly
Ecommerce
$129
monthly
Premium
$169
monthly

Hosting 
(cPanel or optimized WordPress hosting, free AutoSSL, free emails)

Managed Updates
(Updated WordPress core files, themes, plugins allowing for a tighter guard against hacking)

Cloud Backups
(Backups are stored outside of your hosting account in case of server crashes or hacks)



Malware & Vulnerability Scans
(Know if your site has been hacked and needs malware removed)


90 Day Backup Storage
(All backups are stored offsite for 90 days)

Database Optimization
(Keep your footprint light and clean so the site runs better and faster)

24/7 Uptime Monitoring & Alerts
(Scans every 60 seconds and alerts us immediately if your site goes offline and cannot be accessed)

On-Demand Backups
(Extra security that allows you to request a site backup before any changes are made)

Redundancy Off-Site Backups
(Extra security feature where every backup made is also stored in a secondary location)

Spam Removal & Comment Approval
(Spammers overload websites. We'll remove the spam comments & approve the legit ones)

Google Analytics Page View Reports
(Keep tabs on the visitor traffic to your website)

Malware & Hack Removal | Per Occurrence
(Hackers are constantly trying to get into websites. If they do, we'll remove all the malware and get the site ready for business again)
Your receipt & credit card statements will reflect this transaction is with Smitten, LLC. (Our official company name.) All SiteShield and hosting subscriptions, onsite SEO work, and care packages are non-refundable.
Why do we Include hosting In all siteshield packages?
Every website needs a place to "live" on the internet. That's what hosting is. You can pay us to host it, or you can pay another company, but no matter, a website must have a monthly hosting service.
We're including hosting in our packages because we've experienced frustration with other hosting company policies, settings, and sales ethics. We'd love if most all our clients hosted through us because it would be far easier to service their accounts. Of course, you can host pretty much anywhere, with one exception (ask Kama about it). We'll still do all we can to help you. The cost for your SiteShield package remains the same whether you use our hosting or not.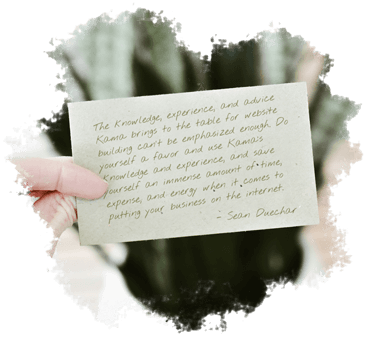 Kama and her team are very transparent in their business practice and are there when you need them. 
We reach out frequently for website assistance and there's no waiting when you need something done. You can't have a solid product or service and be half ass in your online presence, or wait a week to get something done. Kama will make it happen.
Seth reno | ower
freehorse work wear | prineville, OR